These days there is a wide variety home security systems available, including some great DIY options. The SmartThings ADT Security Hub was and still would be my pick.
I did a good amount of research before purchasing this system about 9 months ago. It had only been out for about 2 months, so it was a bit of a gamble. At that time, this was one of the more expensive options (originally $550) but is much cheaper now.
While I wasn't against having a professionally installed system, I liked the thought of having complete control of my home's security features and functionality as well as not having to be locked into any contracts. This system is perfect for DIYers.
In addition to it being backed by one of the oldest home security companies, also doubles as a smart home hub. That worked out perfectly for me as I was already leaning towards SmartThings to tie my smart home ecosystem together.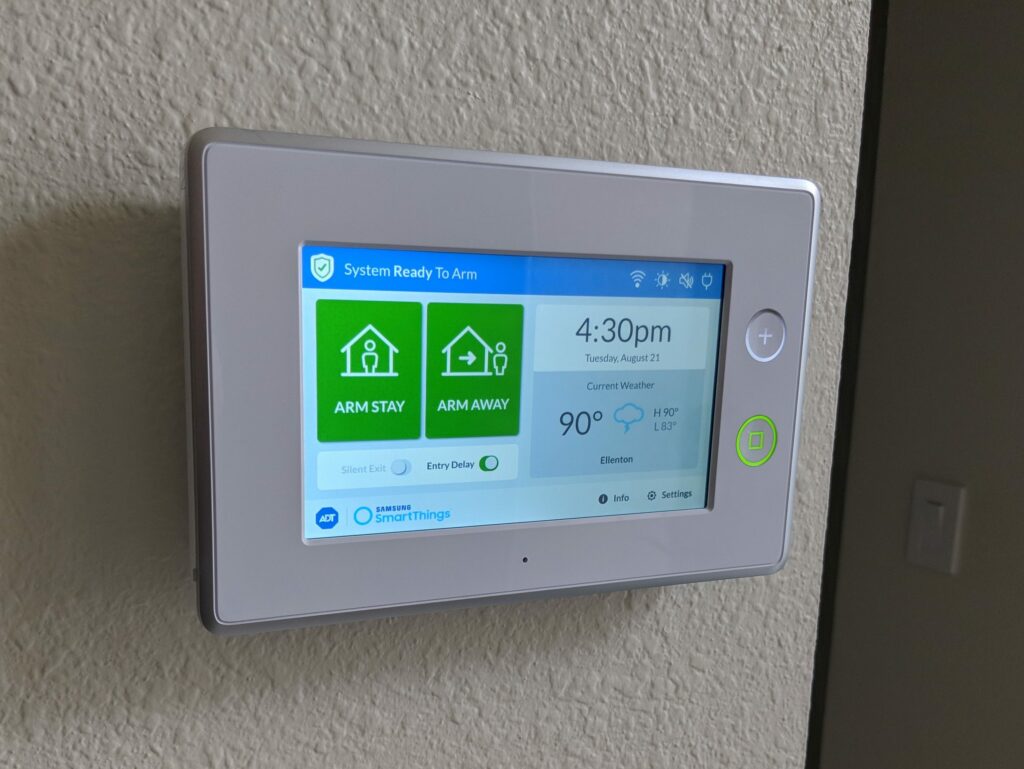 Initial Setup
The DIY starter kit comes with the panel/hub, two door/window sensors and a motion detector. I ended up purchasing additional sensors to cover the whole house. They also offer fire, CO2 and water leak detectors as add-ons. Setup was super easy. I ended up wall mounting the panel/hub in the same location as my homes previous security system panel. If I didn't already have the old panel to get rid of, it comes with a base and would fit in just fine on an entry table or kitchen counter.
Daily Use
Arming and disarming of the system is typical, with large buttons for these tasks on the panel's touchscreen. You can also do this from the SmartThings app from virtually anywhere. Other app related features include status of your sensors as well as event history logs.
The app is also where you can sign up for ADT's professional monitoring plans. They have an option for security monitoring, life safety monitoring, or both at a discount. Security covers your door/window sensors and panic button. Safety covers your fire, CO and water leak detectors. Billing is either month to month or discounted if you do a 6-month plan. No contracts!
Integration
As far as integrations go, this system seamlessly connects with my Netgear Arlo cameras, Ring doorbell and cameras, Ecobee thermostat and sensors, Logitech Harmony hubs, Schlage smart locks, Lutron Caseta smart switches, Google Assistant and multiple Z-Wave devices.