Brendan McDowell is a full-time resident of Central Park at Lakewood Ranch and is currently running for the HOA board of directors. His leadership skills and ability to collaborate with others make him an ideal candidate for the HOA board. Brendan's campaign is built upon a foundation of transparency, and he pledges to work diligently to assist in making the community an inclusive place where all residents thrive.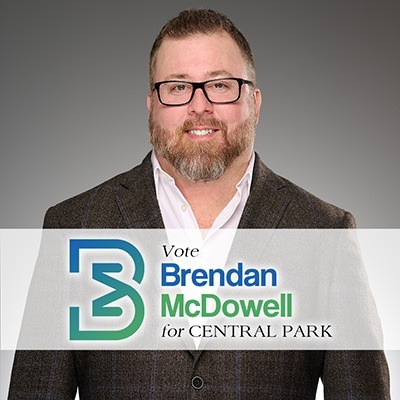 Brendan grew up in St. Petersburg, Florida and attended St. Petersburg College. He moved to Bradenton in 2013 and moved to Central Park with his wife and young daughter in 2023.
Brendan works in enterprise architecture (IT) at Moffitt Cancer Center. Prior to that he oversaw enterprise imaging informatics for Lakewood Ranch Medical Center and Manatee Memorial Hospital (2013-2023).
Prior relevant experience includes River Point of Manatee HOA vice president (2020-2023) as well as being a graduate of Leadership Manatee (2016). This program provided him with a solid understanding of civic responsibilities and leadership.
Brendan is committed to ensuring that Central Park at Lakewood Ranch is a safe and welcoming place for all residents, and he is passionate about bringing a fresh perspective and finding innovative solutions to the challenges facing the community.
If elected to the HOA board, Brendan would work tirelessly to ensure that the community is well-maintained and that residents have access to high-quality amenities. He would also work to promote transparency and accountability within the HOA board and management company, ensuring that residents are well-informed about the decisions that are being made on their behalf.
Follow Brendan's HOA Facebook page here.