While my other half's 2019 Land Rover Range Rover Velar has loads of tech features, there was one thing missing that I love using in my car – Android Auto. After multiple issues with the cool but clunky InControl Touch Pro Duo system, we received the latest software update from the dealer. In addition to solving some issues, it added this needed functionality.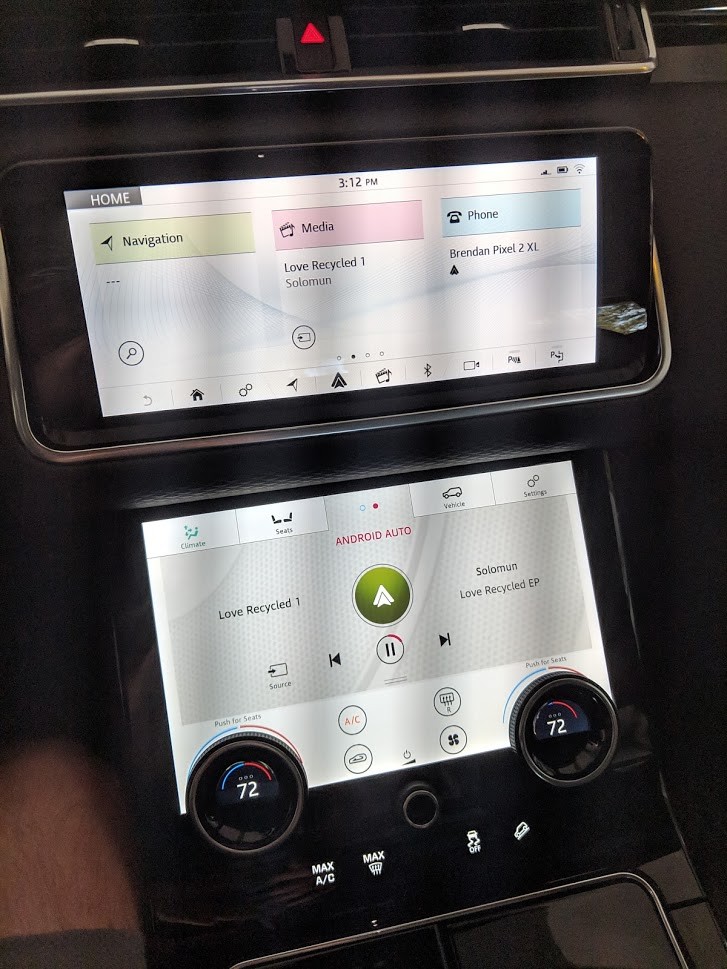 From Jaguar Land Rover:
(MAHWAH, NJ) – October 23, 2018 – Jaguar Land Rover today announced both Apple CarPlay® and Android Auto™ functionality have been added as standard equipment on the 2019 Jaguar I-PACE, as well as an option on select 2019 model year vehicles equipped with the InControl Touch Pro™ and Touch Pro Duo™ infotainment systems.
Drivers are now able to interact with key mobile apps, such as Spotify, WhatsApp and, with the release of iOS12, Waze through the vehicle's touchscreen, in a manner similar to a smartphone. Where equipped, certain functionality can even be controlled via the vehicle's Voice Control, providing additional convenience. Owners will simply connect their smartphone to the vehicle via a compatible USB cable and select Apple CarPlay® or Android Auto™ on the vehicle's touchscreen.
Visit Apple.com and Android.com for the current list of devices and apps which share system compatibility.
Smartphone pack, which includes Apple CarPlay® and Android Auto™ is standard on all Jaguar I-PACE models from launch. Additionally, from the 2019 model year forward, all vehicles equipped with the Jaguar and Land Rover InControl Touch Pro™ or Touch Pro Duo™ infotainment systems with navigation, InControl® Apps™, and Wi-Fi connectivity will be available with the optional Smartphone Pack4. Depending on model, the Smartphone Pack will be either a port- or factory-installed option for around $300, depending on model and trim level.
In addition to the new Smartphone Pack, Jaguar and Land Rover have made a number of other key enhancements to the InControl Touch Pro™ infotainment system for the 2019 model year, including:
Voice command for Navigation functionality introduced for select models;
Major graphical refresh on the "Home," "Extra Features" and "Customizable Homepage" screens;
Minor user experience changes to the button and icon placement on "Media Screen"; and
Additional shortcut buttons on the home screen for key functions within Navigation, Media and Phone.